Foundational Thinking For Creating Good Behavior in puppies (and kittens!) Part One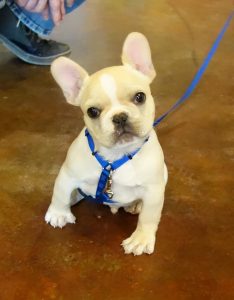 Often we hapless humans try our best to tell our puppies (and kittens) what we want them to do or especially not do, yet the bad behaviors increase and we struggle to get them to be what we wish they would be, especially when it comes to attention-getting behaviors. I'm here to offer a few rules of thumb for most any behavior you don't like. First, I'll say that punishment doesn't need to be part of the picture. Punishing him for wanting your attention can erode your relationship. It's sweet that he wants your attention, but he's asking for it in the wrong way.

A universal truth: Animals do what works for them.
Here's a little attention getting scenario: You're talking on the phone, and the puppy starts to whimper and bark at you. You ignore it for a time, and he gets louder. You tell your friend to hang on, and you turn and shout at the puppy, "Stop it! I'm on the phone!". You go back to your conversation and he goes back to his barking. The trick is to think (in any similar situation) "What does he want?" In this example, he wants you to break away from what you're doing, look at him, and pay attention to him. Have you just done all of these things? Hmm, he in fact got exactly what he wanted, and he thinks "Oh good. That's how I get her attention". You can't really fault him for trying that again. You have unwittingly rewarded his bad behavior, and it will probably increase. Hurrying and getting a dog's dinner to him faster just to shut him up really teaches him something you're not going to enjoy.
Strategy #1: Ignoring behaviors you don't like can be a useful tactic, though you really really have to be a rock. If he barks and barks and barks and you eventually break and tell him to cut it out, you have taught him endurance. "Bark long enough and they finally listen" is what you've taught him. We are no different: when we push the elevator button and the lights don't light up, we jab at it again, and again, and maybe bang on it a few times before we give up and take the stairs. If we ignore the dog at first and then respond when the behavior escalates, we've only taught him, "If barking and whining's not working, bark louder!" They're not being turds on purpose, they're doing what we've taught them works. If that elevator button never ever brings the elevator, you'd quickly learn to go straight to the stairs. If they've had a lot of practice barking to get attention, count on it getting a little worse before it gets better. Remember how you might have jabbed at that stupid broken elevator button in exasperation before you gave up? That's called an extinction burst – they try and try and then really try, saying "Why isn't this working???" Rewarding him when he finally gives up and becomes quiet for a few moments is useful in this moment. Being a rock in the future may help to extinguish this behavior but it can be easier combined with other strategies (read on).