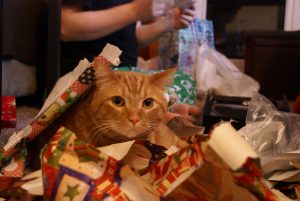 We generate a lot of waste on Christmas morning, so here are some tips for ways to keep waste in check:
Ribbons Are Not Recyclable
Pro Tip: Keep a small bag of ribbons you've received in the place you store your wrapping paper – they can come in so handy when you need to wrap a quick present at other times of the year. If a friend is down in the dumps, cookies wrapped in foil with a reused ribbon or a Ball Jar filled with nuts with a reused ribbon around the neck of the jar makes a really quick thoughtful gesture of support!
Any paper or envelope with decorative foil has to go in the garbage (though all other wrapping paper, tissue paper, cards and envelopes can go in your blue recycle bin, minus the ribbons).

Pro Tip: On Christmas morning, set up two collection bags ahead of time when it's time to unwrap gifts. One for wrapping paper, tissue and cards, and the other for ribbons and foil. It can be fun for kids to be in charge of things, so make one little elf in charge of bringing presents to people to unwrap, and another little elf that can be in charge of grabbing that wrapping paper and getting it into the right bag. You'll be amazed at how much tidier the living room looks after present opening! Don't forget: Those foil covered papers and ribbons are great for kids' craft projects. Keep some pretty pieces for yourself for gift wrapping reuse throughout the year. A brown paper shopping bag used as wrapping paper can look beautiful with a decorative accent cut out of your reused foil paper attached to the top.