Who We Are: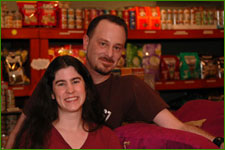 Hello – we're Mike and Christine, and we opened Green Dog in August of 2004. We were originally New Englanders; we met and lived in Boston, then moved to Atlanta for 9 years, and moved joyfully to Portland in 2001. We finally found a city that suits us perfectly – we're really home now. We make a good little team, professionally speaking. Mike had a gift shop in his house growing up – both of his parents were artists who sold their work out of their little store. He also has about 20 years experience in the customer service industry, and 4 years in retail management.
Christine was a zoo keeper for 12 years, (2 1/2 years in Boston and the rest at Zoo Atlanta). She worked with a lot of different kinds of animals, but her real specialty was primates, especially orangutans. While at Zoo Atlanta, she did a lot of animal training, helping to establish positive reinforcement training programs for a number of species at the zoo (many zookeepers these days train animals using positive reinforcement to both challenge their minds and to help them take care of any medical needs with less stress for them, but it was more of a novelty in zoos at the time). She did a lot of public speaking and fundraising for orangutan conservation at the zoo, and in 1997 won an award that enabled her to work in Borneo for two months, helping an orangutan rehabilitation center develop enrichment and training programs. In 1998, she helped to found a nonprofit organization dedicated to the conservation of orangutans, working with them for 10 years. When we moved to Portland, Christine needed a job and a change from the zoo world (thanks in part to a back injury). She was able to use her training background to secure a job for two years as a certified dog trainer at a large pet supply store, helping customers with their behavioral issues and teaching classes while she and Mike built Green Dog Pet Supply.
We adore sharing our love of human and animal nutrition, positive training advice, sustainable products, and other means of holistic support with our valuable customers, and we especially value being able to develop long term relationships with you and your pets.
Our Social Responsibility Mission Statement:
You can see that we feel strongly about doing our very best to carry sustainable, thoughtfully sourced products, but a company is much more than the products and services it sells. Our feeling of connection and responsibility to our customers and our community goes to the very core of the way that our company conducts business. We love our employees and believe in supporting them as much as our business can support (and then some), we love our customers and try to always go above and beyond to help them, especially when their pets encounter challenges to their health and happiness. Our long term relationships with our customers and their pets mean more to us than we can tell you. We love our neighborhood and we help to plan, sponsor and participate in neighborhood events. We love our city and its amazing animal and environmental nonprofits and we donate large amounts of goods and services to support their efforts (here's a big one). Think Global and act Local may be a well used phrase, but it is at the heart of everything we do.
Why We Did This
We have always been huge animal lovers and have always marveled at the power animals have to reach people emotionally. We had always wanted to do something together, and we just kept coming back to the idea of pet supplies. Any other sort of shop seemed so much more boring than a store with animal visitors, and becoming a place where we could be a resource to people for nutrition and behavior questions was really appealing to us. Christine enjoyed her time teaching classes at the big box store, but couldn't wait to sell only products that she really believed in — especially when it came to food.
Once we decided on pet supply, it was a very quick decision to try and do a "green" store. Mike pointed out that we would already be looking for interesting green products just because of who we are and the kinds of choices we try to make as consumers – why not make it a public mission? We were worried that there wouldn't be enough environmentally friendly products out there to fill a store. The good news is that though there are still a few challenges with certain types of products, there were far more choices these days than we thought there would be.
Fun Facts About the Store:
It was important to us that the inside of Green Dog was designed to reflect our philosophy, and we wanted to show people that designing with reclaimed materials can be cost effective and beautiful. We were able to create most of the store from reclaimed and scavenged materials, including the walls and built-in shelving. Looking around the space, you'll find windows, weathered barn wood, vintage doorknobs, a screen door, stair banisters, old wooden doors, picket fencing, wash basins, a coal scuttle, and many other antique and found pieces.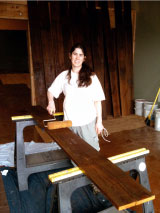 The ramp we built from the main store into the food room is made from old shipping pallets. The long barn wood border around the top of the store was from a 40 x 80 barn from the Drewes family farm in Ridgeville Ohio built in the 1880's. We built the barn door at the back of our food room from Doug Fir reclaimed from a Portland home's deconstruction.
Green Dog used to be located two blocks East on Fremont St. After about 4 years, we expanded the space when a neighboring store moved away, but in just a few years we needed to expand again. We moved to our current location in July of 2010, and we carefully deconstructed our old space and moved the furniture to the new space, even things we never thought would be possible to move. This was a unique challenge, as we did it all while the old store was still open. Our two biggest hurdles were the sales counter and and the big built-in shelving unit that made up the entire back of our original store (see the photo above in "Why we did this").
Our sales counter was built in place, the front made from construction waste from a neighboring store's build-out, and the top is 4″ thick poured concrete. The guy that made the counter for us said that we shouldn't move it, and that though it's reinforced with rebar, that it would almost certainly crack if we tried. We persevered and found a specialty mover that insisted that it was possible, and considering that it was going to cost us more than 3 times as much to build a new counter than to pay the movers, we thought it was worth a try. Happily, they were right, as we didn't really have a Plan B. The built-in shelving unit, made entirely of reclaimed materials, was not made to be moved either, and had to be painstakingly taken apart and rebuilt in the new store and modified to be a free standing unit. Luckily, the same fantastic carpenter friend who built it to begin with (and just about everything else we've ever built for the store) was able to make it happen, and we still adore it for its beauty and utility.
We hope that our store serves as an example of how unique and interesting building and designing with reclaimed materials can be. Not only is it a low cost way to decorate, antiques and other "found" materials add a great deal of character and warmth to any room. This sort of creative design serves to both recycle old things that might otherwise be landfilled, and to lessen the need for the use of virgin materials like tropical hardwoods and our precious local Old Growth Forests.
Do you live in Portland? Check out:
Alpine Design and Construction (our fabulous carpenter/contractor)
http://www.salvageworkspdx.com
http://www.rebuildingcenter.org
http://www.ecohaus.com
http://www.scrapaction.org
If not, use the power of your search engine to find reclaimed lumber, green building supplies, and environmentally friendly building materials near you.