We're coming up on a time of the year when fleas start to become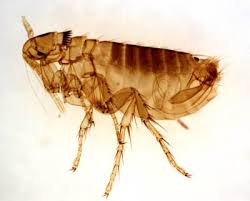 more active. Here are a few quick tips to stay ahead of fleas (and ticks) effectively without harmful chemicals:
Protect your yard
Nematodes: When soil temperatures rise above 45 degrees for at least 2 to 3 weeks (spring, summer and fall in most areas), apply nematodes to your yard to minimize flea populations. Nematodes (microscopic worms) eat flea larvae and do not hurt beneficial insects. They can be found at many plant nurseries. (Portland Peeps: they stock them at Garden Fever right down the street from us).
Diatomaceous earth – sprinkle in the yard where dogs spend the most time, especially if they have regular "resting spots".
Keep it Clean and Dry: Fleas like shady, sandy, and moist areas, so be sure to remove yard debris, and keep grass mowed short in shady spots.
Protect your House