Does your dog suffer from occasional or chronic loose stool?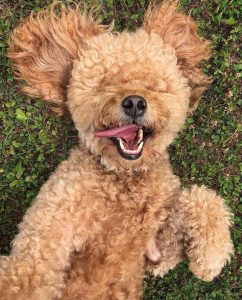 Does your dog eat dirt?
Does your dog eat poop?
Has your dog been on antibiotics or metronidazole recently?
Read On!
We've recently discovered an amazing company that sells unique products for dogs called Four Leaf Rover. They've made fabulous choices when it comes to ingredients that can truly help dogs heal from or prevent chronic health issues. I will introduce you to some of our favorites in separate blog posts so you can get acquainted with them and learn about why they might work for your dog.
Everyone knows that probiotics can be useful to dogs, especially after having to be on antibiotics or drugs like metronidazole that can damage the gut flora and lining of the gut. We've brought in 3 formulas of probiotic, each designed to support dogs in different ways. This one is the first that I'd like to tell you about: "Protect" Probiotics.
The basics:
Protect is an ideal daily probiotic. It's perfect for using after a round of antibiotics, and is actually excellent for use DURING a course of antibiotics to protect the gut from antibiotic damage. It's useful for intermittent or chronic loose stool. Additional ingredients are excellent for detox to get rid of free radicals and toxins. It's perfect for dogs who eat dirt and poop.  Here are the details of how it can do all of those amazing things:
Cool things about Protect Probiotic:
Our friend Dr. Keith Weingardt DVM says that when dogs eat dirt, they're not actually seeking minerals (though there may be benefit in those) but their bodies are likely craving soil based probiotics. The most common bacteria in soil based probiotics are Bacillus species. Bacillus strains have been shown to support both human and animal microbiomes. About 90% of your dog's immune system lives in their gut. So these colonies are the foundation of your dog's immune system, protecting them from disease. Humans benefit from soil based probiotics as well, but humans have largely moved away from being involved in food production and therefore aren't exposed to as many natural ways to access these soil based organisms that might ride along in trace amounts of soil still adhered to vegetables. As a kid I remember popping pea pods into my mouth as I picked them, or pulling up a carrot, brushing as much soil off of it as I could and eating that carrot on the spot. My aunt and uncle had a cow and later some goats that they'd milk. Nowadays our food system has had to deal with more food born pathogens, resulting in the sterilization of our produce, as well as treating them with chemicals to reduce pests and weeds. Soil-based microorganisms are no longer living in the dirt of most farms. These practices have distanced us from the possibility of interacting with and ingesting small amounts of healthy soils from chemical free regenerative farming methods. Studies have shown that children that grew up on farms have stronger immune systems than kids that didn't. Dogs do find ways to play in mud and interact with dirt, but compromised dogs can benefit from supplementation with specific Soil Based Organisms, unadulterated by lawn chemicals, etc.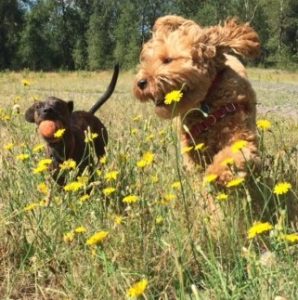 "Protect" Probiotics contain two Bacillus species of soil based probiotic organisms.  Research confirms Bacillus species can produce nor-epinephrine and dopamine to support healthy brain function.
Bacillus strains in soil-based probiotics play especially important roles in the immune system, including strong antibacterial action, potent antioxidant to repair cellular damage, and Immune cell regulation.
Feeding soil-based probiotics also helps the immune system build antibodies. Studies show soil-based probiotics increase production of immunoglobulin A (IgA), which helps repair pathways protect your dog's gut lining. In the livestock industry, they've even found Bacillus can boost pigs' immune function by improving intestinal mucosa structure and tight junctions. So, soil-based probiotics can help prevent immune-damaging leaky gut.
Soil-based organisms are especially useful if you've given your dog antibiotics or vaccinations. You should also feed SBOs during stressful times like travel or competition.
Note: It's important for animals not to take probiotics that have lactobacillus right after having had antibiotics. Lactobacillus has great benefits at other times, but when they're given during or after antibiotic use, Lactobacillus probiotics can delay the microbiome's recovery. This can leave your dog susceptible to even worse health problems.
"Protect" can actually be fed at the same time as antibiotics as Bacillus spores actually shield them from antibiotic damage! So you can give them to your dog at the same time as antibiotics … without worrying the antibiotics and probiotics will interfere with each other! This practice can help to reduce damage to the gut from antibiotics.

Bacillus' antioxidant support helps your dog's body fight cell damage from oxidation. Oxidation leads to premature aging and a weakened immune system. But SBOs (Soil Based Organisms) can help repair damaged cells. Research has found that certain Bacillus strains can promote intestinal tissue repair and antioxidant activity.
Soil-based probiotics are potent tools against inflammation. Research on rats showed that SBOs can protect against and manage rheumatoid arthritis. Systemic inflammation can lead to cancer, IBD, etc. Researchers have found anti-cancer effects in many Bacillus strains. One study showed novel Bacillus strains inhibited ovarian and colorectal cancer cells, and Bacillus subtilis can also inhibit the growth of human breast cancer cells. Soil-based probiotics have also been shown to improve the benefits of other nutraceuticals given at the same time. That means your dog will get the most out of all of their cancer supplements. Even if your dog does not have cancer, the fact that 50% of all dogs will have some sort of cancer in their lifetimes should make us focus on prevention.
Free radicals in the body can come from toxins your dog gets exposed to. Your dog can be exposed to toxins from all kinds of things in their life, like:
Vaccines (some of which may have heavy metals)
Heavily processed dog food (acrylamide)
Medications
Flea, tick and heart worm preventives (pesticides)
Yard chemicals (herbicides and pesticides)
Household cleaning products
Radiation treatments or radiation in the environment (radon)
Dioxins found in the air, fish and dairy products (fish can also have other contaminates)
Other cool Ingredients in Protect 
(many of them are aimed at detoxing the body from these toxins):
—Blueberries have the most antioxidants of any fruit. They're full of vitamins like A, C, E, K, folate and choline. they deliver some minerals too … like manganese, calcium, iron, magnesium,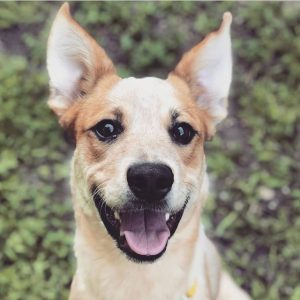 phosphorus, zinc and potassium. They help to fight free radicals that can lead to cancer, etc and Studies show that blueberries control inflammation, which reduces the risk of chronic disease, arthritis, heart disease and cancer. Studies show blueberries have strong effects on brain health and memory, eye health, and have found that blueberry supplementation can improve the gut microbiome … and even help heal leaky gut syndrome! Anthocyanins are part of the reason for this effect … because of their anti-inflammatory properties. In one study, sled dogs ate blueberries to boost antioxidant levels and they discovered that they could recover faster after competition, as blueberries helped reduce post-exercise oxidative stress.
– Bentonite clay Bentonite is a negatively charged, highly absorbent clay. It can help digestive    disturbances like constipation, bloating, gas, Skin and allergy issues, and recovery from vomiting     and diarrhea. Its effectiveness is due to its negative charge. This allows it to pull positively charged toxins from the body. Then together they are eliminated through your dog's stool.
–Chlorella is a single-celled, freshwater green micro algae that is getting a whole lot of attention from researchers. And that's because chlorella has been linked to a variety of potential health benefits.Chlorella is an immune booster, detoxifier, gastrointestinal aid and more. Researchers looked at the effects of chlorella on blood lead levels. It reduced toxicity by 66.03% when supplemented during exposure. Other studies looked at chlorella's effect on cadmium and mercury. In both studies, chlorella helped reduce the amount of heavy metals stored in the body. In 2001 researchers extracted chlorophyll (plant pigment) from chlorella. The chlorophyll effectively stopped the absorption of dioxins and increased their removal. In 2016, researchers successfully used chlorella as a detoxifier for radioactive strontium. 
Chlorella is a prebiotic that feeds good bacteria so they can restore and maintain a healthy gut. And according to one study, it can help increase the growth and survival rates of probiotics. Chlorella contains a powerful compound called CGF (Chlorella Growth Factor). CGF contains nucleic acids in the form of RNA and DNA ,which support cellar regeneration. When your dog eats food rich in nucleic acids it helps protect your dog's RNA and DNA. This protects his cells so that they're better able to fight off disease and illness. We should all be ingesting more micro algae like Chorella!
–Dandelions are a great way to strengthen your dog's liver. They are also a good source of magnesium, (low magnesium may contribute to chronic inflammation and joint issues. It's also an important part of collagen synthesis.) It also contains calcium (which is good for reducing inflammation in joints), iron, and zinc (to help collagen synthesis). It's also a good prebiotic.
–Burdock root contains active ingredients in its root system that can remove toxins from the bloodstream. Studies show "potent inhibitory effects" on cancer growth caused by cancers like pancreatic carcinoma. One study found burdock root significantly interfered with cancer cell growth. It's also a great source of trace minerals and is a good prebiotic.
–HumicSure  contains more than 70 micronutrients in biologically up-takable form. (The deficiency of minerals and micronutrients can block the function of enzymes and vitamins responsible for transforming nutrients into energy and biochemical building molecules). These Humic substances were formed during the decomposition pathway of plant biomass over millions of years. Humic acid cannot be absorbed from the intestinal tract but plays a very important role in buffering the pH, in the absorption matrix preventing the absorption of toxins, bacteria stimulation, and nutrient uptake. In short, Pure Humic Acid is very effective at cleansing the colon, and blocking the absorption of toxic materials into the body.
–Saccharomyces boulardii is a probiotic yeast – It helps fight diarrhea and yeast infections and unlike other probiotics, it can't be killed by antibiotics. That means it can be given during antibiotic treatment.
– Bacillus coagulans & Bacillus subtilis which are the actual Soil Based Organisms/probiotics
With any new supplement, we always encourage starting with a pinch, and slowly building up to the proper dosage
Notes:
Protect Probiotic can be used together or alternated with Bifido For Fido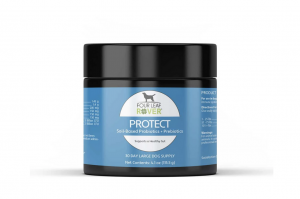 and Gut Repair.
All probiotics are better protected by storage in the refrigerator
Check out the reviews about Protect Probiotic on their website here (scroll down towards the bottom)