(* = items we sell or can order for you)
Remember – if it's not safe for you to stay in your home, it's not safe for your pets. When in doubt, bring them with you. There is a chance that if conditions worsen, you may not be allowed to return to your home to retrieve them later.
Pro Tip: Use the buddy system. If you can, make arrangements with a nearby neighbor to try and help

each other if the time comes to evacuate. Trade keys now and give instructions on where your pets and medications/supplies are. If you are out during an emergency event, your neighbor may be home and able to get your pets out when you cannot (and vice versa).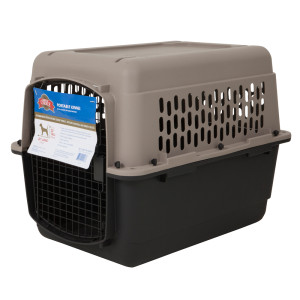 Containment: One of the most important things to own are crates*, (especially for cats). If your house is damaged, your pets might be very frightened and disoriented, and panicking pets are hard to keep safe. Crate them to protect and transport them. You may also have better chances to find shelter elsewhere if you have a means to contain your pet.