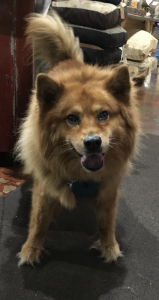 I just saw a little rant online from some well-intentioned woman begging dog owners to shave their poor dogs in the summer, as she felt so bad for them. I thought it might be helpful to address that question here.
Actually, shaving some breeds of dogs can actually make them quite a bit hotter.
Shaving some breeds can destroy their coat which may never grow back in correctly. More importantly, double-coated breeds are designed to shed their undercoat and leave the guard hairs (top coat) intact, which then acts to shield the dog from solar rays, reflecting them away.
When you shave the dog, it removes the protective layer exposing them to greater risk of sunburn, skin cancer, and especially heat stroke. The reason? Removing the top coat causes the fluffy base layer (the hot one that they usually shed in the summer) to grow back quickly, covering them with a thick hot layer of insulating fur. You'd be cursing them to wear their winter sweater in the heat instead of their sun shield! The other bummer about exposing the woolly undercoat is that it becomes a magnet for foxtails, burrs and dirt – the slipperier outer coat is more resistant to these things.