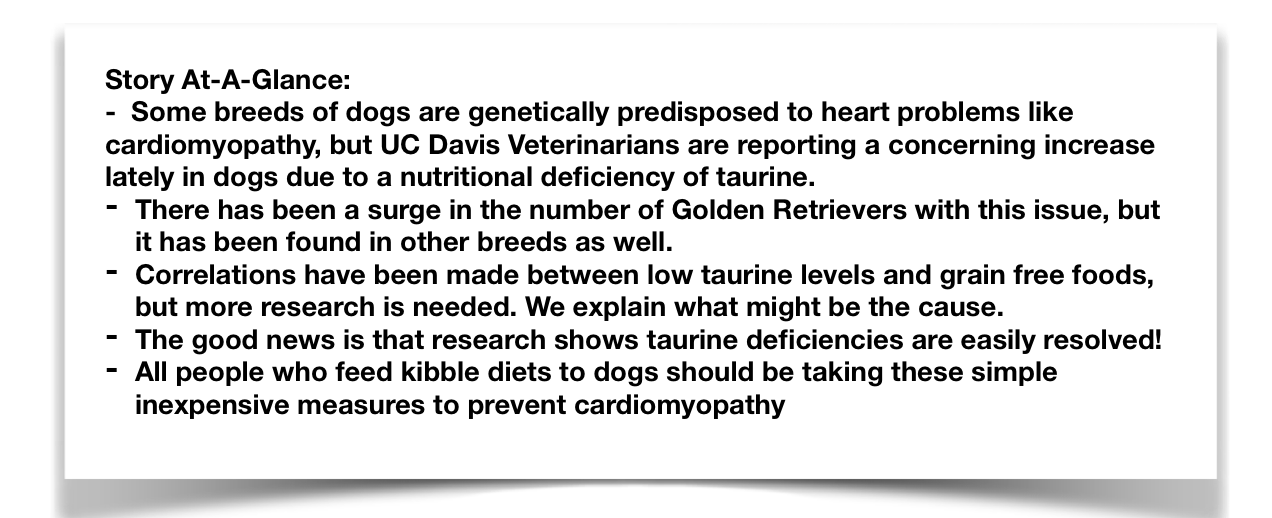 (Part 4 of our Toppers Are Important Series)
So there's a lot of information bouncing around the internet recently about grain-free foods contributing to heart disease in dogs. Like most things on the internet, much of this information is good, yet some downright irritating with its bad advice and misinterpretation of the facts. I thought I'd chime in and try to distill it for anyone that it's interested. Truthfully, all kibble feeders should be interested. Please remember, I'm not bashing kibble per se, but those that feed it should be aware of its shortfalls. The good news is that its very easy and not expensive to provide excellent protection against these shortfalls when feeding a dry kibble diet!
So here's the thing with this recent issue:
U.C. Davis reported an increase in heart disease (specifically dilated cardiomyopathy or DCM) in dogs eating grain free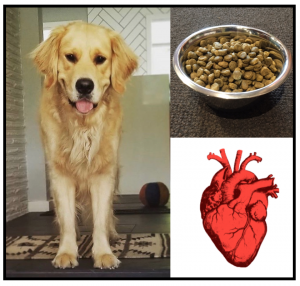 kibble, and when tested, they have low taurine levels.
Some breeds of dogs (like boxers, dobermans, cavaliers, etc) have genetic predispositions to cardiomyopathy (a serious weakening of the heart muscle making it harder to pump blood through the body), but there's a recent increase in cardiomyopathy in other breeds as well, linked to Taurine deficiency. Golden Retrievers may be especially vulnerable to this. The amazing news is that recent research is showing that when you improve their taurine levels through nutrition, they rapidly and significantly improve their heart function (even with other heart problems like murmurs and arrhythmias) Yay! 
Here's what we do know: This definitely points to a nutritional problem with their diets.
Remember as you read other articles: Some dogs showing low taurine levels were eating food with grains. Some dogs with DCM didn't have low taurine levels. There hasn't been a formal study yet, this is still just an FDA investigation into reports of a handful of dogs that aren't considered genetically predisposed to DCM presenting with the disease. More here
The good thing about this event is that FDA and the vets that are collaborating with them are suggesting that there may be a strong correlation between diet and Taurine deficiency. We concur!