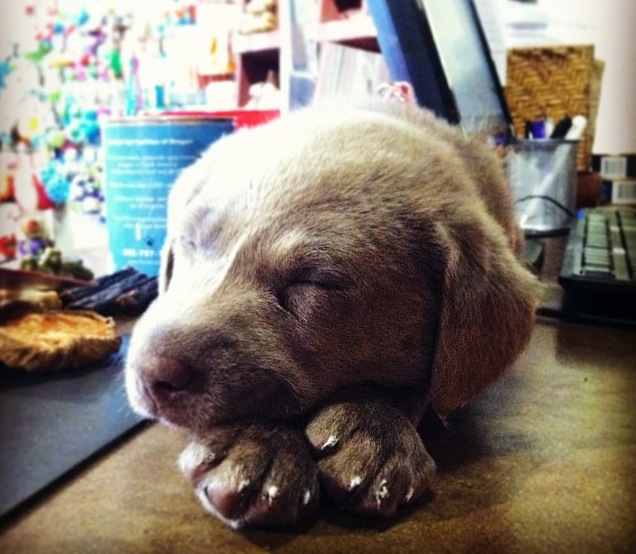 By Green Dog Pet Supply
(This was written as a handout for customers, and we thought it might be useful to others as a blog post. If you share it, please give credit to Green Dog Pet Supply. Thank you)
Congratulations on your new puppy!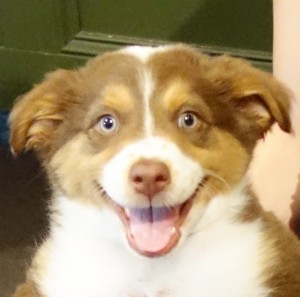 What a fun time you'll have! We very much want your new baby to live a long, healthy, happy life, so we thought we'd compile some of the nitty-gritty dos-and-don'ts of puppy care. We want to be a resource for you as you take this journey, so please don't hesitate to ask questions if you have them, and if you live nearby feel free to visit often just to say hi, get treats and love from our staff, and to socialize your puppy – we love to see you!
Here are a few tips that we hope will come in handy for you:
Socialization is of utmost importance. Though we realize that it's important to keep your puppy physically healthy, there are definitely also big behavioral risks to keeping your puppy away from the world for too long. Puppies only have about a 4 month window of opportunity for their primary socialization to occur. Beyond that, it becomes harder to convince them that the world is a fun and inviting place. One of the primary reasons that dogs are given up to shelters is for difficult behavioral issues. Fear aggression towards strangers, reactivity around other dogs, and trouble relating to children are issues that may be prevented with better socialization early in life. Well socialized dogs are a pleasure to bring out into the world and lead calmer, less fearful lives. If you've adopted an older puppy and they're a little nervous about the world, don't worry – significant strides can be made with positive reinforcement training! Your major goal with all new dogs is to try and create as many positive experiences with new things (or with things they already find worrisome) as you can, and to not push them into anything they don't feel comfortable with. Be their cheerleaders and they'll gain confidence.
We strongly recommend a puppy class, whether this is your first or your 10th puppy. Classes are a wonderful way to expose this new puppy to the many other shapes and sizes of dogs, and give them early positive playtime experiences with other dogs under the watchful eye of a trainer in a clean environment. If you do a class together as a family, everyone in the household gets to hear the same instructions (which is great for preserving family harmony) and everyone can work together as a team to work on new behaviors (great for kids to have a mission). Best of all, you have access to the same trainer for the duration of the class – a great resource for the little problems that can pop up. A class also gives you the unique opportunity to work on behaviors in a distracting environment (if they can practice focusing on you with puppies and people all around them, they can learn to do it anywhere!) Most puppy classes allow a puppy to enter class by about 10 weeks of age as long as they are current with their vaccinations for their age, and we say the sooner the better. It's far easier to prevent problems than to try to fix them later, and it's often a big help to have the advice of a trainer in the early weeks where patterns of behavior in the home are being established. Ask us for referrals to great classes in our area. There are also a few places in town that have socialization play groups just for puppies!