Here is a list of the current foods we carry at Green Dog Pet Supply
Last Updated 11/20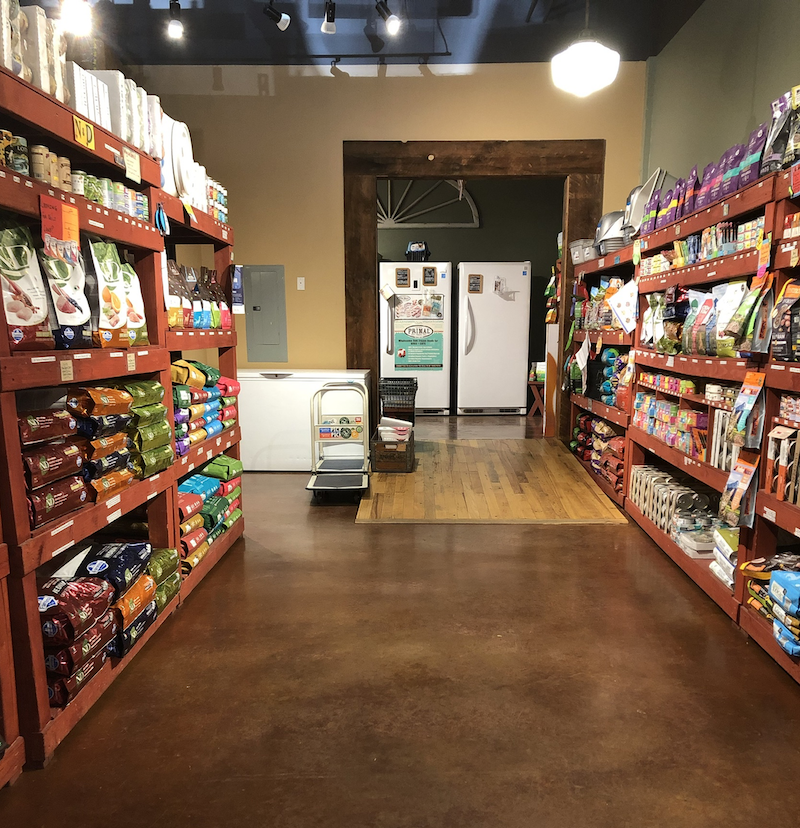 Some of our guidelines for pet foods:
Our criteria for foods are that they all be made from human grade ingredients. None of our foods have corn, wheat or soy and are naturally preserved. We also make every effort to evaluate the safety standards of the company that manufactures the foods, seeking transparent companies that have 3rd party inspections with excellent marks for manufacturing safety and quality control. We also want to ensure that ingredients like fish meal are not pre-preserved with chemical preservatives that would not be on the label, and that companies are making an effort at sustainability with sourcing. We try hard to avoid factory farming of meats (especially battery cages for poultry, feedlots (CAFOs) for cattle, and gestation crates for pigs). We are opposed to the use of traditionally farmed salmon in foods and treats, though some new farming operations show promise with practices that earn them 3rd party certification for sustainability and rigorous testing for contaminates.  Our treats and foods contain no chemical preservatives, nitrates, propylene glycol, carrageenan, beet pulp, or artificial flavors/colors. Note: We can often special order foods for you that are not stocked on our shelves.
Raw Food Meals and Toppers:
Answers Foods (dog and cat raw foods, as well as Fermented Goat's milk, Fermented Cow's Milk Kefir, Fermented Turkey Stock and Fermented Fish Stock, Probiotic Cheese Treats, fermented chicken feet and fermented pig's feet)
Green JuJu
Lotus Raw Cat Food
Nugget's Bone Broths
Primal foods (raw cat and dog food) and bones
Rawr (raw cat food)
Small Batch (cat and dog raw food)
Vital Essentials (raw cat food) and treats (dog and cat)
Frozen raw sardines, turkey hearts, chicken necks, duck necks, turkey necks, tripe patties.

Gently Cooked:
Open Farm Gently Cooked
A Pup Above
My perfect Pet (limited skus)

Freeze Dried/Dehydrated Foods and Toppers:
Honest Kitchen (dehydrated dog foods)
Green Juju
K-9 Natural and Feline Natural (freeze dried cat and dog foods and toppers)
Primal (freeze dried dog foods)
Stella and Chewy's (freeze dried cat and dog foods and toppers)
Small Batch (freeze dried dog foods, toppers and treats)
Vital Essentials (freeze dried cat and dog foods and treats)

Kibbles (dry dog food):
Farmina N&D Pumpkin (dog) and Prime (cat)
First Mate (cat and dog) (Grain Free & Grain Friendly, and Kasiks for dogs)
Nature's Logic (cat and dog)
Nature's Variety Be Naturals (dog) and Instinct (cat)
Nulo Freestyle (cat and dog)
Nutrisource Grain Free (dog, select flavors)
Open Farm (cat and dog)
Pure Vita (cat and dog)
Stella and Chewy's Raw Blend, LID Duck and Turkey, and Raw Coated (dog)

Cans:
BFF (cat)
Caru Stews (BPA Free Boxes for dogs)
Feline Natural (select flavors)
K-9 Natural (select flavors)
First Mate (cat and dog)
Hound and Gatos (dog)
Identity (cat and dog)
Koha (select flavors)
Lotus (select flavors)
Nature's Logic (cat and dog)
Nature's Variety Instinct (cat)
Nulo (cat and dog)
Open Farm Stews (BPA Free Boxes for dog)
Stella & Chewy's Stews (BPA Free Boxes, dog and cat)
Tiki (cat)
Weruva (cat, most flavors and dog, select flavors)


Check out our blog posts on how to read a pet food label and learn which ingredients to avoid (and why):
When Vets Tell You to Switch From Grain Free Kibble to Kibble With Grains
Your Bag of Kibble Might Have Pretty Pictures, But Do You Know What's Inside?
A Discussion of Sustainable Choices in Foods for Pets
Cat Nutrition – Please read this if you have a cat
Tips for New Puppy Owners
Claiming Raw Foods Are Dangerous Isn't Backed Up With Data
Why Dry Pet Food Isn't The Best For Your Cat
Carrageenan and our Quest to Change the World One Ingredient at a time
Just Say No to Soy in Pet Food