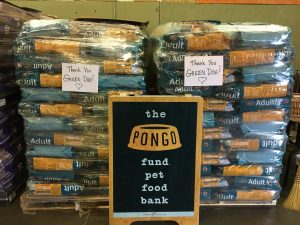 Green Dog Pet Supply is gearing up to deliver the second half of our annual pet food drive to The Pongo Fund pet food bank. The Pongo Fund has called this donation "The BIGGEST single store, premium quality pet food drive in America".
We do a pet food drive every December for the Pongo Fund. We offer a bag of dog food for customers to purchase (at our cost) for donation, and we've always matched each of them. Both our distributor (Animal Supply) and the food manufacturer (Nutrisource)  also matched one bag for each 12 sold. This resulted in a VERY large donation this year,  one we had to break into two deliveries to be able to afford to do it, which is why this update comes to you in July.
This delivery brings the total number of pounds of food donated to 15,550 (that's more than 7 tons of food with a retail value of more than $21,000). Our food drives have always been impressive (last year's was about 11,000 pounds) but this year, customers donated 183 bags!
We had to break it up into two parts, as this sort of donation isn't easy. Green Dog is a local independently owned store. We believe in taking good care of our staff – we provide a living wage, and full time staff receive benefits. We have sacrificed most of our advertising budget to help support local pet rescues. The owners make the same salary as our senior employees. We exist to help people keep their precious pets in their lives as long as they can, and we work tirelessly to become the best resource for holistic pet care that we can possibly be. We donate over 200lbs of food a month plus additional supplies (many of which are donated by our fabulous customers) to local rescues and other causes, including Meals on Wheels (for seniors to feed their pets when they couldn't otherwise afford it), Dignity Village via Safe Dogs by the River, Underdog Railroad Rescue, and Angel's Eyes Dog Rescue (a small rescue operating on a shoestring), among others.  We think this donation is a very exciting event – we are honored to be able to help the Pongo Fund.
Many cities have a food bank for humans, but a pet food bank of this size and scope is a very unique thing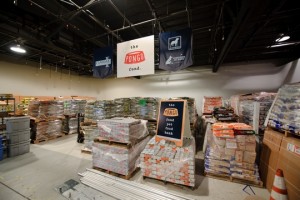 in this country. There is quite a bit of conversation these days about the homeless situation in Portland, and the things that are and are not being done to help. This amazing service makes a big impact for families facing food uncertainty, both for themselves and their pets. Sharing your only meal with your pet is a sacrifice many people are willing to make. The stories told by Larry Chusid, the founder of The Pongo Fund are always touching, regularly posting stories in his blog of people who have found themselves in terrible situations yet stay hopeful due to the presence of the pets in their lives. His stories do a valuable service, humanizing the people who are homeless or food challenged and reminding us all that this problem is not faceless. The Pongo Fund is critical to help keep pets with their families and out of the animal shelters when their families are homeless or having a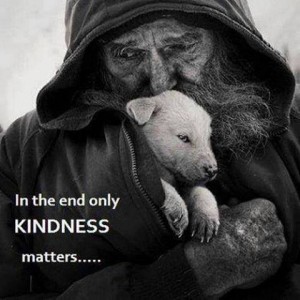 difficult time finding the money to feed their pets. People can visit the pet food bank in Portland, but the fund also delivers food to distribution points in other parts of Oregon. They also have an Emergency Veterinary Care fund, (read the great blog post about this fund in this link and a wonderful story about one dog that really needed it here ). He often calls us to help a pet owner with tricky health issues, and we and he both donate products and money to help people get the supplements, etc that they might need. The Pongo Fund also has an Emergency Pet Food Response Team, a Spay and Neuter program, and provides high quality and nutritious pet food directly to many other social service and emergency food organizations that in turn provide that food to their own clients.
We are proud that our customers helped us to make this delivery of what is likely to be the largest ever pet food donation by an independent pet supply store, and proud to support the Pongo Fund in the endless work they do to support homeless and low income pet owners.
Read the super nice article they wrote about us when the first half of the food was delivered!