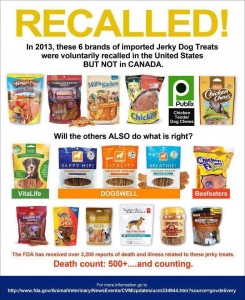 By Green Dog Pet Supply
Please make sure that you and your friends feed only jerky that is made in the U.S. and is also made from US chickens/ducks, etc. The FDA just posted an
"update"
saying they still haven't figured out the cause, and are still not issuing a recall. Deaths since January = 100 dogs (600 total so far and one cat), and illnesses since January = 400 dogs and 10 cats (3600 total). It's interesting that the FDA mentions the illnesses in this PDF, but not he deaths. Reports are down this year because many popular brands have issued recalls themselves after illegal antibiotic residues were found, but illnesses and deaths continue from other brands of Chinese jerky, including chicken, duck, and sweet potato.
We like
Kona's Chips
chicken jerky, made in the U.S. from humanely raised chickens. Also available in organic chicken.
This graphic shows recalled brands, and also pictures other brands of Chinese jerky that haven't yet agreed to recall their products, so we thought it would be handy for you to help recognize the brands.
Here's an interesting article
which explains why we think it's possible that illegal antibiotic residue might still be shown as the cause. Time will hopefully tell, and get whatever it is off the market for good.