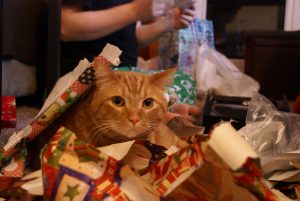 We generate a lot of waste on Christmas morning, so here are some tips for ways to keep waste in check:
Ribbons Are Not Recyclable
Pro Tip: Keep a small bag of ribbons you've received in the place you store your wrapping paper – they can come in so handy when you need to wrap a quick present at other times of the year. If a friend is down in the dumps, cookies wrapped in foil with a reused ribbon or a Ball Jar filled with nuts with a reused ribbon around the neck of the jar makes a really quick thoughtful gesture of support!
Any paper or envelope with decorative foil has to go in the garbage (though all other wrapping paper, tissue paper, cards and envelopes can go in your blue recycle bin, minus the ribbons).

Pro Tip: On Christmas morning, set up two collection bags ahead of time when it's time to unwrap gifts. One for wrapping paper, tissue and cards, and the other for ribbons and foil. It can be fun for kids to be in charge of things, so make one little elf in charge of bringing presents to people to unwrap, and another little elf that can be in charge of grabbing that wrapping paper and getting it into the right bag. You'll be amazed at how much tidier the living room looks after present opening! Don't forget: Those foil covered papers and ribbons are great for kids' craft projects. Keep some pretty pieces for yourself for gift wrapping reuse throughout the year. A brown paper shopping bag used as wrapping paper can look beautiful with a decorative accent cut out of your reused foil paper attached to the top.

Styrofoam Packaging peanuts and Bubble Wrap cannot go in curbside, but other places will reuse them.
Pro Tip: Places like the UPS store and Fedex are often happy to take your clean bagged Styrofoam peanuts – call your local store and ask. Excess cardboard boxes, Bubble Wrap and packing peanuts can be posted on Craig's List or Next Door. People who are moving might appreciate them or small businesses in the neighborhood might want to use these for shipping and will come take them off your hands. We at Green Dog have a short list of people in the neighborhood that own businesses that ship products, and we make sure to call them to come pick up free packing material when we get it, and they are very happy to save the expense and guilt of buying it.
Corks can't go in curbside bins
Pro Tip: Corks make great crafting material (glue them onto a sturdy surface and they make a good message board!). Local Portland folks might try taking them to New Seasons – we've seen collection bins for them there. Find other drop off points near you at https://recork.com/us/en/locations. Do you know someone who owns a wine store? Recork will send them a prepaid shipping box to send 15lbs at a time.

Lots of updated electronic devices might mean lots of E-waste when you get rid of your old devices.
Pro Tip: Check out Free Geek! they recycle or reuse just about everything with a plug.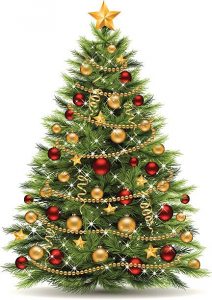 Interesting things from your Holiday dinners and decorating that you CAN include in your Portland compost bin:
– meat, poultry, fish, shellfish, bones
, coffee filters, coffee grounds, tea bags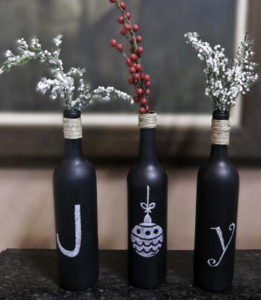 – pumpkins
– Greens from wreaths and even your tree, cut down into 3ft. lengths and free of wire, tinsel, etc. (you might have to break it up over a few pickups as it can't be sticking up out of the bin, but it's a good way to have your tree picked up for free)
– Enter your address here to find other nearby places to recycle your Christmas Tree
Pro Tip: Make crafts from common items instead of recycling them
Make lanterns from metal cans! instructions here
Bottles make pretty DIY crafts – a quick google search of homemade gifts from wine bottles (or any other material!) yields tons of ideas like these
Including non-recyclable items in your bins might make them throw all of your recycling away!
Unfortunately it's easy to contaminate our curbside recycling bins with well-intentioned attempts to recycle things that we wish they would take, or with little things that we don't realize can ruin the ability to recycle the rest of the material.

For example, lids are almost always made of a different plastic than the bottle or tub they're sold with. It's too work-intensive for workers to remove them (too few people, too much recycling to pick through quickly, and everything still needs to get washed and processed or packed up to be processed elsewhere) and the plastic in the lid is a very different plastic, with a higher melting point than bottles and processed an entirely different way. Things like plastic bags and caps can also jam machinery when they get into the mix accidentally, so can cause damage and make them more likely to toss "contaminated" recycling instead of sorting it. A light bulb might be made of glass, but their different melting points and chemical compositions will ruin new glass bottles. If a buyer of glass sees a light bulb at the top of a load of glass, the entire load could be rejected for recycling. This kinds of hopeful recycling often means that all of our good intentions are foiled. When in doubt, leave it out!
Here's a list of some common things that are mistakenly added to recycling/compost
– Soft plastic bags can't go into curbside, but they can get recycled!  Pro Tips: Find a drop-off location here, or Reuse them for collecting used cat litter, use them as dog poop bags, or rinse and reuse them as produce bags/bulk food bags at the supermarket.
– Plastic "clamshell" containers like for fresh spinach, rotisserie chicken,  or restaurant to-go boxes can't be recycled curbside. Pro Tip in Portland: Check out this new effort in Portland to get restaurants to use these new reusable to go containers, or ask your restaurant or grocery store if you can bring your own containers? Check to see if fresh spinach can be purchased bulk, or in soft plastic bags which may be recycled in your area (see link above).

– Any paper packaging made to contain frozen foods or takeout containers must go in the garbage. They contain additives to make them waterproof and these additives make it non-recyclable
– Styrofoam blocks are a challenge at the time of this writing. Check out this link for your options. Pro Tip: Look out for neighborhood cleanup efforts in the spring, (especially near Earth Day in late April), as they often collect styrofoam at these events.
– Cat litter (even the plant based ones we sell) cannot be added to curbside compost (the fact that it clumps makes it so it can clog up machinery that's used to process it)
– Ashes from the fireplace can't be composted curbside, but they can be scattered under trees and bushes or added to your home compost pile.
–

To-go boxes, parchment paper, or plastic bags and cups that say "compostable" are generally not allowed in our compost.

Bummer, but true. Here are a few brands of approved compost bags you can use to collect food waste that have been proven to break down quickly in their facilities: BioBag  "Certified Compostable", EcNow Tech  "Compost Me", EcoSafe "6400 Line", Glad "Compostable Kitchen", Natur-Tec "Natur-Bag Compostable". Everything else that says compostable must go into the garbage.
– Pet waste, even if it's in one of the bags mentioned above. Compost is meant to be appropriate for food crops, and pets' fecal bacteria could pose a risk. Good for you for picking it up and throwing it away, as it keeps feces out of our local streams, rivers and water supply.
Resources:
– This is the best all around site to find out what can be recycled where in our area
– If you're in Portland and moving, managing an estate, or cleaning out your house in a giant spring cleaning effort, check out this great service! They recycle and donate whatever they can and haul it all away
– Another Neat Link: My Green Kitchen: The Ultimate Guide To Recycling and Eco-Friendly Life
At Green Dog, our mission statement can be boiled down to this: We believe that living sustainably does not have to mean making drastic changes in our lives. Simply considering where things come from and where they go when we're finished with them can be a big step towards living a more environmentally friendly lifestyle.