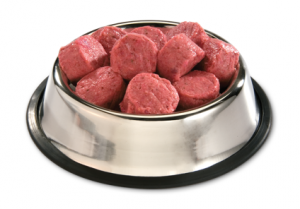 By Green Dog Pet Supply
The FDA and the AVMA seem to have mounted a significant campaign against raw foods for pets, and we'd like to speak to that, as sometimes their information seems strangely skewed.
Last August (2012), the AVMA issued a statement warning against the safety of feeding raw food due to the risk of salmonella. The biggest problem we have with this is that this implies that there are no risks of salmonella exposure with other pet foods like kibbles. In fact a remarkable number of kibbles, chews and treats for dogs have been recalled for salmonella contamination.
Most concern about salmonella contamination is for the health of the humans involved, as humans are more susceptible to illness from handling salmonella contaminated food than the pets who eat them. What is never acknowledged is that to date, the Centers for Disease Control and Prevention have no confirmed cases of human illness linked to raw pet foods. In stark contrast to this, the same year that the AVMA issued this warning, one of the largest salmonella recalls for kibble occurred in Gaston SC at the Diamond Manufacturing facility, shutting down the production of at least 15 brands of pet food, and resulting in 49 confirmed human cases of Salmonella Infantis linked to kibble pet food manufactured at Diamond's facility. At least 10 of these people were hospitalized, though reporting is poor for this, so it may have been more.
The Centers for Disease Control and Prevention reported in the journal Pediatrics that an outbreak of salmonella in 79 people between 2006 and 2008 was caused by contaminated dry pet food. The infections, half of which struck children, were the first known human salmonella cases linked to dry dog and cat food (from Mars Pet Care)