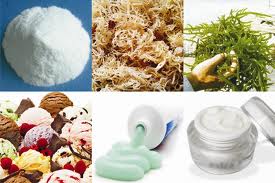 By Green Dog Pet Supply
At Green Dog, we have some rules about what food we do and don't carry. However, sometimes there are ingredients that we learn about along the way, and when we do more research, the time comes to evaluate whether we want to keep the products that contain it. We never want to take away a popular item, but we want every food we carry to promote the health of the animals that eat it, not to undermine it. Some stores might just drop a line of products that they don't care for, but it's always been our policy to try hard to present the case to the company that makes the product first, to see if they might be willing to consider our request to remove the ingredient in question.Dropping the line protects our customers, but convincing a company to change the ingredient helps to protect all pets that might be feeding it nationwide, and allows us to keep a food item in stock for our customers.
Carrageenan (a thickener made from red seaweed that is used in many canned pet foods and in some moist and chewy treats) is one of those ingredients. It's an ingredient that might or might not cause obvious problems for animals right away, but it could have negative effects over time, especially if the animal is eating it every meal of every day. It's also in a lot of human foods, so if you or someone you know has chronic GI problems, read on. Unfortunately, carrageenan is in several brands we carry, including in one of our most popular brands of canned cat foods. Cats are tricky sometimes, and they want what they want – we'd rather keep the brand for them if we can. When we ask companies that use this thickener about it, they always respond that the carrageenan that they use is "food grade" which is safe, as opposed to "degraded" carrageenan which is not. However, we had read other opinions about that, and some interesting research studies to back them up. So, at the end of May we wrote to the 3 companies that we carry that use it, and to one company that we don't carry yet, but were considering. Here's the general letter, which we adapted to each company. This particular company makes an organic line of pet food:
Hello – I'm writing today to ask about the use of carrageenan in your organic canned foods. Though I realize that the carrageenan used is "food grade" and not "degraded", there are quite a few people advocating for a closer look into whether food grade carrageenan is in fact causing similar worrisome health effects to degraded carrageenan and whether it should indeed be used in human and animal foods at all.