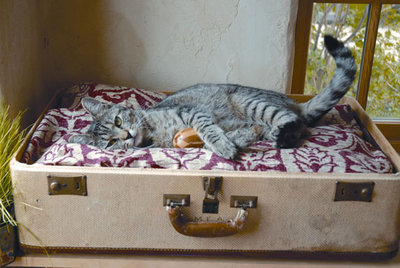 Times are tough and beds can be expensive. I found a couple of cute links for making pet beds out of things you might have lying around the house. Save money and recycle household items that might otherwise be landfilled.
Check out this link for how to make a cat bed out of an old sweater.
This is a very simple bed to make. It would be a perfect cover for an old bed pillow of your own that you've retired.
This link is for making a chew resistant dog bed out of old jeans
Check out this collection of links with other clever ideas such as using old suitcases and even an office chair turned into cat furniture.
Here's a nifty You Tube video about how to make a simple pillow out of jeans legs
Here's a dog bed with a bolster back