Forgive the lack of posts recently – we've been in almost over our heads recently with many back of the house issues to contend with and gladly, we're very busy in the front of the house, thanks to all of you! But I wanted to let you know that spring has sprung for us in our little courtyard, as we officially have our first hummingbird nest of the season. There's a tag for hummingbird posts in the category list for this blog – we got some good photos last year of the two nests that successfully fledged 2 chicks each, so you should check out some of those posts for photos if you'd like to see them. If we're lucky this year, we might see three nests of babies, as Anna's Hummingbirds usually can pull off 3 nests per season.
Here's something unusual though – this is the second nest in the courtyard this year – the first one was either a false start, or this is a new female building this current nest. <! — more — >Here's what happened: In early January we started to see an Anna's female flying in and out of the bamboo numerous times per day. She'd forage for insects as she went, but mostly she seemed to be auditioning different spots in the bamboo for a nest. She'd fly over here and sit for a minute, then fly over there and sit there for a minute, etc. After about 2 weeks of this, she picked what I thought was a poor location for a nest (but who am I to judge what makes a good one?) and started building. It was pretty low down and way out on the edge of the foliage, making her more vulnerable to human activity, and on a dead stalk that seemed weak to me. She wasn't fazed at all with us watching her, so I'm inclined to think it was the same female from last year. Soon enough (about a week) she had enough of a nest built to lay her eggs, and she laid one on Jan 20th and one on the 21st. However, after about a week, she disappeared.
Several days later, we were all pretty depressed, as we knew it would be very unusual for a female to abandon newly laid eggs. We've lost other hummers in the neighborhood to windows and one to a neighbor's cat, so we felt sure that she had fallen victim to something like this.
But lo and behold – I spotted a female cruising the bamboo for a few days, even looking fairly closely at the abandoned nest but not interacting with it, and she started a new nest in the bamboo planter that's closest to the stairs! It's a pretty one, with lots of moss and lichen: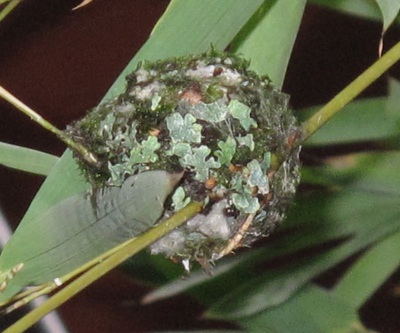 As of now it looks ready for the first egg (it's started to be lined with feathers as of Saturday and Sunday – she even scored a big grey feather that had been shed by another bird) We're off today (monday) but I expect to see a Jelly Belly sized egg in there when I arrive Tues. Here's the feather-lined nest (we can see it from the balcony above):
Next time you're in, ask Christine or Mike to show you where it is. Luckily it's in a good place for photos this time around!
Funny thing is, I'm not quite sure if this is the same female. I've seen the nest growing, but rarely have caught a glimpse of the hummer. I figure that if she's upset at me looking at her when she's incubating, it's a new female. If she gives an "Oh, it's you" look  then I think it's our resident female.
Update: Yep, on Tues there was first egg in there, and the next day, two. We should be looking for a hatch on or around March 5th