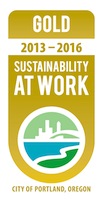 By Green Dog Pet Supply
The City of Portland's Bureau of Planning and Sustainability has a certification program to identify Portland's Greenest businesses. It's a fairly thorough process, with site visits to verify the information given on a lengthy checklist of possible actions of sustainability. In 2013, 45 actions were required for Gold Level, and Green Dog had 53 completed actions. Our evaluator  told us that we were "in the top handful of scores for all high achievers we've worked with, and by far the highest number we've seen for any retail establishment". Woo Hoo!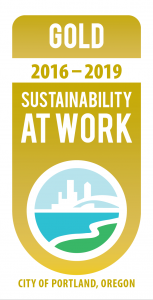 This year,we completed 45 suggested actions plus
note: (this post is a work in progress)
Read more about additional things Green Dog does behind the scenes to support our mission. 
This directory is an excellent way to find Portland's most sustainable businesses – here's the link to the general directory of certified businesses in Portland.