Here is a list of the current foods we carry at Green Dog Pet Supply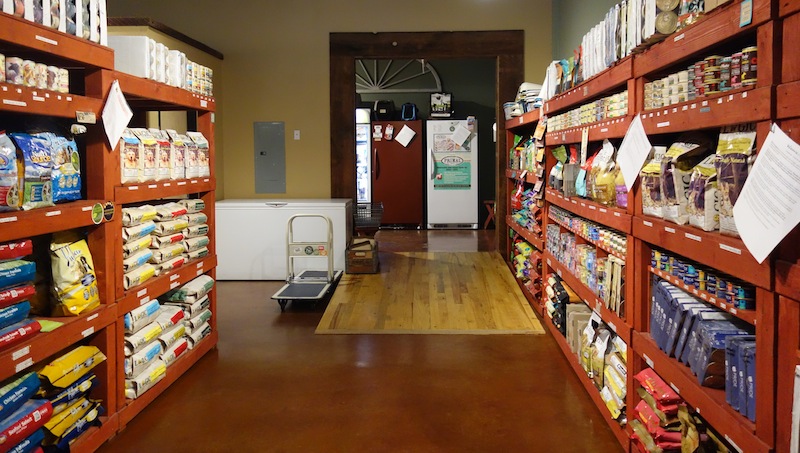 Some of our guidelines for pet foods:
Our criteria for foods are that they all be made from human grade ingredients. None of our foods have corn, wheat or soy and are naturally preserved. We also make every effort to evaluate the safety standards of the company that manufactures the foods, seeking transparent companies that have 3rd party inspections with excellent marks for manufacturing safety and quality control. We also want to ensure that ingredients like fish meal are not pre-preserved with chemical preservatives that would not be on the label, and that they are making an effort at sustainability with sourcing. We try hard to avoid factory farming of meats (battery cages for poultry, feedlots (CAFOs) for cattle, and gestation crates for pigs). Our treats and foods contain no farmed salmon, chemical preservatives, nitrates, propylene glycol, or artificial flavors/colors.
Check out our blog posts on how to read a pet food label and learn which ingredients to avoid (and why):
Your Bag of Kibble Might Have Pretty Pictures, But Do You Kow What's Inside?
Just Say No to Soy in Pet Food
A Discussion of Sustainable Choices in Foods for Pets
Claiming Raw Foods Are Dangerous Isn't Backed Up With Data
Why Dry Pet Food Isn't The Best For Your Cat
Raw Foods:
Rad Cat
Answers Foods (cat and dog), Cultured Goat's milk and Cultured Fish Stock
Small Batch (cat and dog)
Primal foods (cat and dog) and bones
Nature's Variety (cat and dog)
Northwest Naturals (breeder bars for dog)
Max Meal Food Topper (dog)
Freeze Dried/Dehydrated Foods:
Honest Kitchen (dog)
Sojos (dog)
Pureformance (dog)
Stella and Chewy's (cat and dog)
Orijen (dog)
Ziwi Peak (dog)
Kibbles:
Nature's Logic (cat and dog)
Orijen (cat and dog)
Acana (cat and dog)
Nutrasource Grain Free (dog)
Pure Vita (cat and dog)
Natural Planet Organics (dog)
Pulsar (dog)
First Mate (cat and dog)
Nature's Variety Prairie (dog)
Nature's Variety Instinct (cat and dog)
Simply Natural (dog)
Cans:
By Nature Organics (cat and dog)
Cocolicious (dog)
Nature's Logic (cat and dog)
Lotus (cat and dog)
Evanger's (cat and dog)
Hound and Gatos (dog)
Nature's Variety Prairie and Instinct (cat and dog)
Tiki (cat)
Weruva (cat)
Tripett (dog)
Wellness (cat and dog)
Wild Calling (cat and dog)
Note: (we strive to eliminate carageenan from our shelves – we have just one line of cat cans that have this thickener (due to overwhelming customer demand), though we are working with the company to try and change this. We have effected change at three different companies, convincing them to eliminate carageenan in their foods, and dropped a few other lines of food that were not open to change at this time)